Illustrations contribute a unique charm to books;
Loïs Cordelia's artwork has fulfilled this role for our first anthology, SternenBlick.
In the following interview, she tells us about what makes her illustrations distinctive.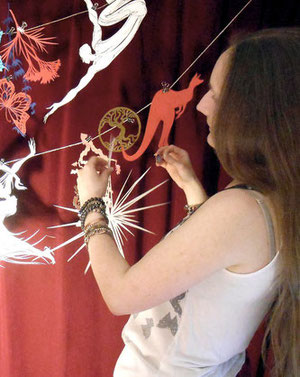 It is meaningful chance encounters that steer our lives towards happy coincidences. SternenBlick has become a great project of happy coincidences, through all of the authors and collaborators who have made it into something special.
One such happy coincidence has brought the prolific artist and illustrator Loïs Cordelia (right) from England to SternenBlick. She combines scalpel paper-cuts, acrylic painting and other creative elements into an overall cohesive concept of energy and precision.
We were delighted, therefore, when Loïs agreed to take part. The result was three unique illustrations to accompany scenes from poems in the first volume of SternenBlick, which now form the eye-catching visual component of our hardcover edition.
In an interview, Loïs revealed more to us about her creative process, why book illustration has become a passion, and what role poetry plays in her life:
SternenBlick in an interview with Lois Cordelia

---
Where does your passion for illustrating books come from?
---
Lois: "From earliest childhood, I have loved to draw and paint. Since 1999, when I was still at school, I have regularly worked part-time as an assistant in the studio of children's illustrator Jan Pienkowski. Jan (born 1936, in Warsaw) grew up in several different European countries, because of the war, and therefore a number of his books are inspired by traditional scissor-cut and silhouette art. For my own part, I also grew up with books of silhouette illustrations, including one of Jan's books about the Christmas story, which became deeply imprinted on my mind.

In the meantime, I have developed my own style of illustration, always focussing on paper-cut art. Increasingly, I have experimented with incorporating other mediums (drawing, painting, photography and digital art), to create magical and unexpected effects.

For me, the most important principle in illustration is to go beyond the story told in the text, to add my own interpretation to it."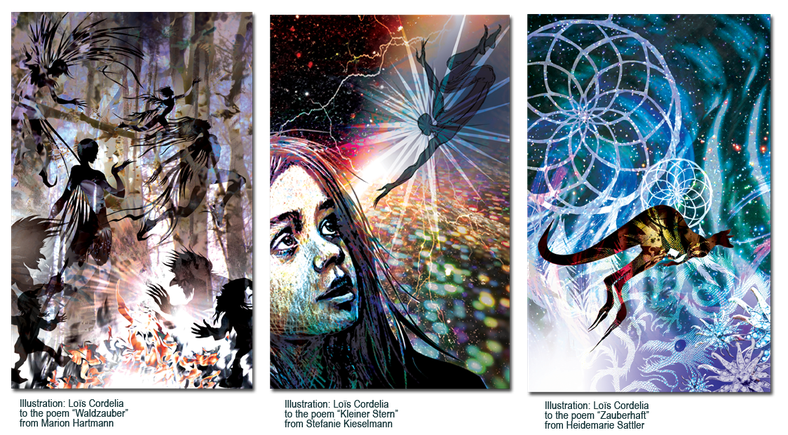 ---
You are currently collaborating with the poet Marion Hartmann on a children's book of poetry, and you were straightaway willing to contribute illustrations for SternenBlick.
Do you have a special love of poetry?
---
Lois: "I love poetry, and Marion's poems have especially appealed to me time and again. They are aglow with her love of Nature, of the world of fairytale, and of magical encounters. Her effortless, playful choice of words amazes me. We both respond intuitively to each other's work, and therefore, I think, we work so well together.

More generally, what fascinates me about poetry is its musicality and flowing movement of words and thoughts. Individual words and phrases leap out at me, and conjure up images in my mind. "
---
All your pictures are powerful and have a lot to do with movement.
How does this energy operate in your creative process?
---
Lois: "Very simply, through dance. Whenever I'm working on a new piece, I dance, hence naturally the movement of dance flows through the design. I begin with a free-flowing sketch, to preserve the original energy of my first fleeting impression. When I draw, I work very quickly, always from my shoulder, as opposed to my wrist, to achieve sweeping curves. This energetic sketch should balance out the precision of the blade-cut."
---
Tell us a bit about how the picture for "Kleiner Stern" ("Little Star") evolved. From the first concept to the finished piece, are there many re-workings? And how long do you work on such a picture (on average, or specifically on this picture)?
---
Lois: "For every design I work on, it could be said that the longest and most important phase is the gradual flowing together of ideas in my mind. This phase often spans many days or weeks. When I finally come to create the picture, all the ingredients are therefore already present, just as for a recipe: then I experiment freely to achieve the best possible assembly of these elements.

Concerning the picture for the poem "Kleiner Stern" ("Little Star"), I knew immediately that I wanted to choose this poem and create an illustration for it, because it spoke to me deeply. I was moved by the implied love story between the little girl and the star. The poem contains both the yearning of wistful longing, and the joyful, laughing awakening of first love. In the end, there remains ambiguity: both tears and comfort. For this reason, I decided to anthropomorphise the star, as a star prince, who might also represent Icarus. "
---
One last question: (Leaving aside time and money), if you had a free choice, which book would you like to illustrate?
---
Lois: "I enjoy every job that challenges me, because it takes me on an unexpected journey of discovery. In any case, I would always choose to illustrate children's books (or books for adults who remain children at heart). In our digital, fragmented age, I think it is vital to inspire children to look at the world with eyes of wonder, to develop intuition, and never to lose a sense of magic. Hence, I would choose a book that kindles this lifelong love within them."
---
I thank Lois for her insight into her work. Many of her wonderful pictures and more information can be found on her website: www.loiscordelia.com

---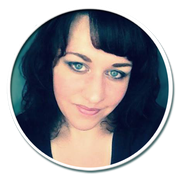 Stephanie Mattner is Editor from the anthology SternenBlick
and main leader for the Project.

For more information about Stephanie, please click here.
---